There are many precious wetlands habitats in Hong Kong, however, many freshwater wetlands are facing development pressure.  In order to strike a balance between development and conservation, the Government and developers have been making dramatic changes in the planning process in recent years.  While developing the habitats, part of the land must be reserved for conservation purpose thereby making an important step in wetland ecology conservation.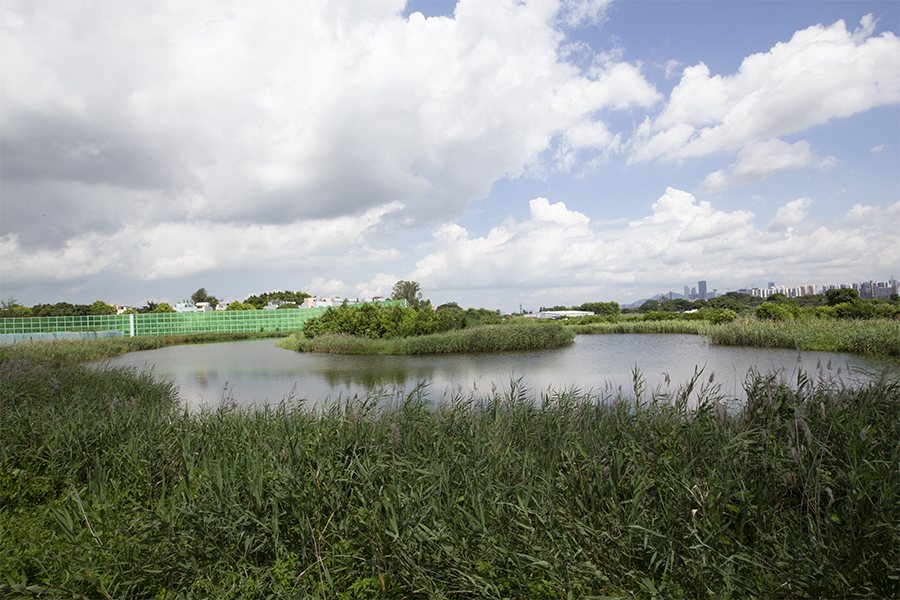 Since 2012, we have undertaken the management of the engineered wetland situated in Wo Sang Wai, Yuen Long.  Wo Sang Wai is adjacent to Mai Po Nature Reserve.  Every autumn and winter, this area is frequented by winter migratory birds.  The ecological conservation of engineered wetland in Wo Sang Wai has demonstrated a practical option of how development and environmental conservation could be achieved at the same time.
The scope of our work includes conducting ecological surveys and records, controlling alien species' invasion, tree management, monitoring water quality, overseeing the safety equipment and their maintenance at the venues  [overseeing the safety equipment and maintenance works at the venues].  We are also responsible for preparation of reports for submission to relevant Government departments and other stakeholders.
The above-mentioned tasks have contributed to attaining an equilibrium point between the sustainable development of the city and ecological conservation thereby achieving the harmonious coexistence between man and nature.
In March 2020, we have begun a 3-year Fish Pond Ecological Enhancement Project in Ho Chau Road, Yuen Long. This project aims to restore and manage the dilapidated fishponds and revitalize them into the feeding ground for the surrounding waterfowls. This restores the food chains in the wetland and enhances the wetland biodiversity. This project also aims to explore effective management strategies and systematic assessment of efficiency of different composition of management practice in wetland conservation.
In March 2020, Eco-Education and Resource Centre has officially become a member of the Wetland Link International (Asia). To date, there are 350 members in the WLI Asia Network. Members mainly focus on wetland education throughout the world and aim to promote wetland conservation issue to the local community, the government and the private sector.